janvier 24, 2019
Envoyé par :

Astorz.com

Catégories:

Forex, Indices, Market analysis, Nasdaq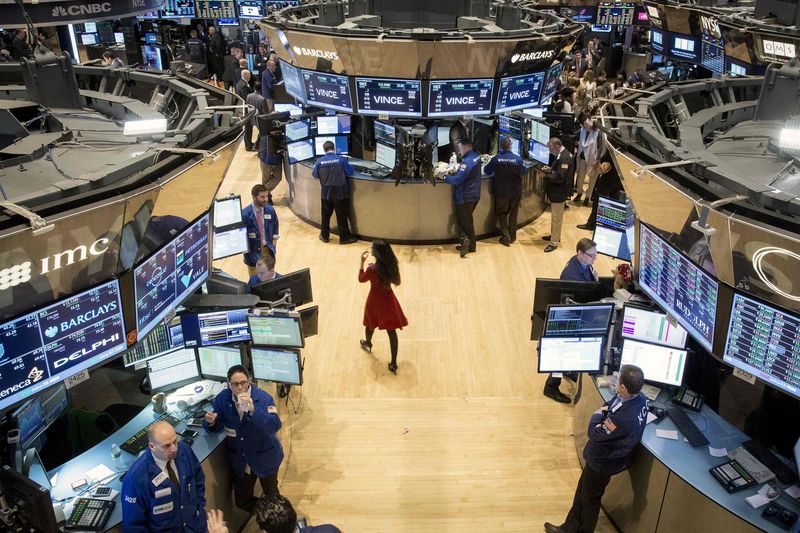 1. Wall Street Set to Open Higher
Wall Street is set to open slightly higher, following another batch of generally reassuring earnings reports that also drove global stocks broadly higher overnight. Beats from Texas Instruments (NASDAQ:TXN), United Technologies (NYSE:UTX) and Procter & Gamble Company (NYSE:PG) Wednesday suggested a broad swath of the economy remains in good health.




At 05:35 AM ET (10:35 GMT), the blue-chip Dow futures were up 30 points, or about 0.10%, the S&P 500 futures rose 4 points, or around 0.16%, while the tech-heavy Nasdaq 100 futures was indicated up 29 points, or 0.44%.
Elsewhere, European stocks were mostly higher, with the tech sector rising sharply after a strong update from chipmaker STMicro. Earlier, markets in Asia closed mostly higher, following Wall Street's lead.
2. Senate Votes on Shutdown After Pelosi Bars Trump from House




The Senate will vote later Thursday on rival proposals to end the partial shutdown of the federal government.
The vote comes a day after President Donald Trump said he would put off holding his State of the Union address until the shutdown is over.
About a quarter of the government has been shut down since Dec. 22 when some U.S. agencies' funding expired for reasons unrelated to border security or immigration. Trump has demanded that any shutdown-ending measure must contain $5.7 billion for building a wall on the U.S.'s southern border, funding that Democrats oppose.
3. Draghi to Be Watched for Signs of ECB Rate Hike Delay
European Central Bank President Mario Draghi will hold a press conference after the ECB's first policy-making meeting of the year, which comes after a worrying slowdown in the euro-zone economy in recent months.
Flash estimates released earlier Thursday showed Germany's manufacturing sector contracted in January, while the euro-zone Purchasing Managers Index just stayed above the 50 level that signals expansion.




No change to policy is expected, but the market is looking for signs that the ECB's first rate hike since 2009 – currently expected towards the end of this year – will be pushed back even further. The euro was down 0.30% against the dollar at $1.1346.
4. Jobless Claims, PMI Due
Data on initial jobless claims are due at 08:30 AM ET, with the number of those claiming expected to tick up slightly to 219,000 from 213,000 last week. Markit's U.S. PMI for January is also due and is expected to show a slight drop to 53.5 from 53.8 in December.
Finally, the Kansas City Fed's composite and manufacturing indexes will be released at 16:00 PM ET.
While the figures remain broadly positive, crunch trade talks between the U.S. and China next week continue to overshadow them. Trade tensions ratcheted up again overnight as Beijing blocked access to Microsoft's (NASDAQ:MSFT) Bing search engine in China.
5. Oil Recovers From Surprise Surge in U.S. Crude Stocks
The more positive tone in equity markets overnight has supported U.S. crude after it fell on the back of data from the American Petroleum Institute Wednesday showing a surprise 6.5 million barrel rise in U.S. stocks last week.




The Energy Information Administration will release its weekly data dump at 11:00 AM ET (16:00 GMT).
The data come against the backdrop of upheaval in Venezuela, one of the biggest exporters of crude to U.S. refineries. The U.S. and other countries recognized Juan Gaido, head of the national assembly, as the legitimate President Wednesday, bolstering his attempt to overthrow Nicolas Maduro, whose victory in elections last year was overshadowed by claims of vote-rigging.
The turmoil has hit the stocks of refiners Valero Energy (NYSE:VLO) and PBF Energy (NYSE:PBF) in premarket trade.